When you get replacement windows in Laguna Niguel, CA, it's a good idea to start with the basics and build your windows from there. There are some upgrades that are good for some homes and other things that might be a waste for your home. You need to match the right upgrades to your home and then try and fit it into your budget. Here are a few things to consider based on the upgrades and what your goals are.
Low-E Glass For Lots Of Light
If you get a lot of natural light into your home, that can be really nice because you can enjoy that lighting and make rooms look nice and larger. But in this area of the country, the lighting can make things really hot inside as well. Perhaps you want natural light and you want to put certain windows in so you can get more of it. But that light can make your home feel hot. Consider low-E glass coatings so that you can reflect the heat of the sun back outside and bring in as much light as you want. These coatings block UV rays as well, which can help you prevent fading and home damage. If you get a lot of light, or want more light, low-E coatings can block the heat and let you have the light.
Triple Pane For Noisy Areas
Your home should be a place where you can go for peace and quiet, at least while your kids are at school! Triple pane glass can help you to block the noise from outside the home. Get the triple pane glass and you will get further insulation. Not only are you going to get further efficiency for your home, but also less noise. This is great for a house on a busy street, or one in a neighborhood with lots of activity you'd like to block out.
Inert Gas For Higher Efficiency
If your main goal is getting the most efficiency for your home, you want to stop air drafts in their tracks. Windows come with double pane glass today and that's a great way to slow air down. But if you place inert gas fillings between those panes of glass instead of just the normal air, that will really slow down any drafts that try to get through the glass. Inert gas is denser than air and can stop any airflow from getting through that area.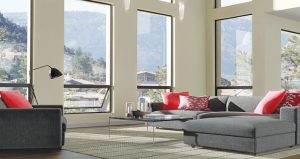 There are lots of other upgrades you can consider adding to the quality, standard replacement windows in Laguna Niguel, CA. You will want  to work closely with the professionals at California Window & Solar to see what goals you have for your home, what your budget is, and what upgrades can help you with those goals. We want you to get every thing you need for your home and we will only offer suggestions that we feel will really work well for your situation. Give us a call for a free consultation.