When you decide that you want to get replacement windows in Mission Viejo, CA, you might also want to consider getting window coverings at the same time. These two projects can easily go hand in hand together and work well together. Here are some reasons to place these two processes together at the same time.
Make One Budget For Everything
While it's wise to have a nice, big budget for new windows, you are going to want to have a budget for window coverings as well. You could roll those two projects into one and take care of them all at once. You can talk to window professionals who deal with replacing windows as well as window professionals who help with coverings and get a good idea as to what kind of budget you need. Either check your savings, finance it, or figure out what you want to do with a personal loan to cover everything.
Have It All Done At Once
Replacing windows is a big job, as is replacing window coverings. You can have it all done at once and get it over with. You have to take the window coverings down when you get new windows so it makes sense to get new coverings replaced after the new windows go in. You can get it all into place and have everything lined up and done within a few days once the installation is complete.
Get The Freshest Look After
When the new windows go in and then you get window coverings to go over that, you get a completely fresh, new look that will help you to renovate your home both inside and out. You are going to have a whole new appearance in your house on the exterior as well as on the interior.
Enhance Energy Efficiency To Its Fullest
New windows are going to give you a new lease on life when it comes to efficiency. But if you get new coverings that can further your efficiency as well, you are going to be able to have a home that is as efficient as possible. You are doing everything you can to get the most efficient house possible. One of the items alone will do a lot, but both together are really going to work well in lowering your energy bills and helping your home.
When you are ready to get replacement windows in Mission Viejo, CA there are things you will have to do before the installer arrives,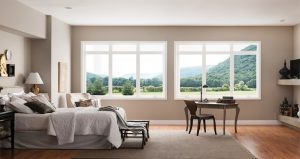 like take down your window coverings. Instead of putting old ones back up over new windows, it might be a good time to get new coverings as well. First, contact the professionals at California Window & Solar and work on the windows. That's the biggest step you have to take. You can then figure out what you want to do for your coverings. We'd be happy to help you with a free consultation and that could help you to find the right direction for your process from there.