White Glove Installation
Award Winning
Award Winning White Glove Installation
By California Window & Solar

You may have never experienced service at this level during any previous home improvement project. We treat your home like it is our own and take extreme care installing your windows and doors. Sound expensive? No! Because you deserve the best, our award winning White Glove Installation is provided at no additional charge to each of our customers.
The White Glove experience starts long before our arrival at your home. In addition to benefiting from our decades of experience, our lead installers are required to receive their certification through AAMA Installation Masters training and testing. Not only are our installation teams professional in what they do, they dress the part.
When our courteous employees arrive at your home they will be dressed in clean uniform shirts, clearly marked with our logo. Why? Because we want you to know they are not just our installers, they are our permanent employees. We understand your home is too important to be entrusted to untrained workers picked-up from a corner.
During the installation you can expect the utmost care of your home. At no time will tools or sealants be placed on your furniture or on unprotected flooring. Once every window and door is properly installed, adjusted and sealed, we remove the stickers and wash your windows. All interior and exterior work areas are cleaned and the old windows are loaded onto our truck and hauled away. Our goal is that at the end of the job, the only sign of us being at your home is that you are enjoying your new windows and doors.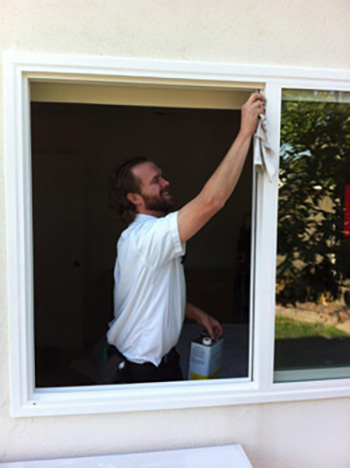 Contact California Window & Solar
---