When you have people over to your house, they might notice that it's uncomfortable and that the curb appeal is lacking. But there are lots of things they might also notice when they visit again and you have replacement windows in Mission Viejo, CA on the home. Here are a few things that they might just recognize when they arrive and during their time in your home with you.
More Welcoming Atmosphere
When guests approached your home in the past, they might have noticed that it didn't look all that welcoming. In fact, maybe it looked sad and worn. But when you get new windows put onto the home, the house will look welcoming inside and out. On the interior, you have more natural light, which is always going to make the space look more welcoming for guests.
Larger Rooms
Not only does natural light make guests feel more welcomed, but it has a way of making even small rooms look larger. When you get new windows, you might want to focus on bringing in more light, but even if you get windows in a similar size and style, you will get more light into he space. Windows today have larger glass space because technology has allowed the frames to be smaller, which allows for larger glass and more light overall.
A Better Curb Appeal
When you approach your house after you get new windows, you are going to recognize how fresh and new it looks because of those windows. You'd better believe that any guest you invite over is going to recognize the same things about your home. Your home looks better from the curb, which makes them feel invited, makes you feel better, and will sell your home easier in the future.
Great Ventilation
When you have guests over, rooms might start to feel a bit too stuffy. You might also have things going in the kitchen, which wafts scents around. When you have new windows installed, you can open those windows and ventilate the space with ease. Guests feel like they have plenty of fresh air to go around, no matter how many people are visiting at a time.
Better Views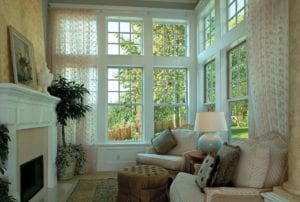 It's always nice to show off your view to your guests if you have something nice to see outside of your home. When you get windows that show the view even better than before, like picture windows, casement windows, or even larger bay or bow windows, you can let your guests enjoy something you get to enjoy yourself on a regular basis in your house.
New windows are going to make guests more comfortable all the way around because they will help your home with efficiency and lots of other things. Look into replacement windows in Mission Viejo, CA for the people who live in your home, but think about your guests and what they will appreciate when they visit as well. The professionals at California Window & Solar are here to help with the details.