For most homeowners, a home renovation project such as replacement windows in Mission Viejo, CA is required to increase the overall value of their home and catch up on renovations they did not have time to complete previously. These necessary repairs can help make the house a more comfortable place for the entire family, and homeowners should replace their windows to make it even more comfortable.
With so much reliance on the use of glass in windows and doors, it is critical to stay on top of facility management and ensure that windows and doors are replaced when necessary. It is critical to look for the following indicators that it is time to replace the components:
Window Age
When the glass in commercial windows and doors reaches an age where it is more prone to breaking and damage, it must be replaced. It is usually preferable to replace older windows before anything serious occurs. Preventive maintenance can save building managers time and money in the long run.
The average lifespan of a home window is 15-20 years. Once they reach this age, the seals begin to deteriorate or fail, leaving you vulnerable to drafts and water seepage.
Furthermore, single-pane windows were the norm 15 years ago. These windows are not as energy efficient as modern double-pane windows because they lack insulation.
Visible damage to the windows
A damaged window can potentially endanger children and pets. Children or animals may injure themselves if they do not realize a window is broken. Make sure your windows are in good working order to prevent intruders from breaking in and injuries in your home.
It's difficult to look past the obvious cracks and breaks in your windows. When the damage to a window becomes more visible, you should be concerned about potential access for break-ins, rats, and weather damage.
Electric Bill Increase
When utility expenses rise, this is another clue that glass components need to be replaced. When nothing else changes and the cost of heating or cooling a space increase, the windows and doors are the first areas to look for problems. Replacing glass and inspecting seals are critical steps in repair and inspection.
One possibility is the windowpanes. When windows are damaged or old, they can quickly change the temperature of a room, causing the HVAC system to work more than usual.
At this time, you should be on the phone with a professional window repair provider, discussing the signs that your windows need to be replaced.
Difficulty in opening/Closing Windows
If there are reports or complaints that opening and closing commercial windows and doors is becoming problematic, it is time to consider glass services or replacements. Sticking, grinding, gaps in seals, and difficulties locking, and unlocking are all symptoms of underlying problems and structural flaws.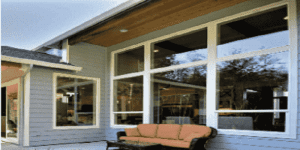 Replacing your windows is one of the best things you can do to improve the beauty and value of your home. You may contact professionals that can assist you with your home replacement window, in Mission Viejo, CA. Request a consultation today to learn more and collaborate with certified glass care professionals and get to know more about out products and services.