Many homeowners have a list of things they want to do to their house. It's a never-ending thing when you own a house. There are always things you can do. But if you have replacement windows in Laguna Niguel, CA on the list, you might want to move them up the list to the first thing you do. There are lots of reasons why putting replacement windows first might be a good idea. Here are a few to consider:
They Will Save You Money For Other Things
If you renovate the bathroom, your home will raise in value and you'll have more functions available for your family, but you probably won't be saving money once the project is done. But when you get replacement windows first, you have efficiency, comfort, and lower energy bills. That will help you to start saving money for other projects, like the bathroom renovation. Not many projects you have in mind are going to save you money after you are done and this one can help you with the rest of your list.
They Bring In More Light
Replacement windows are going to bring in more natural light, even if you get the same window sizes and styles. The frames are going to be smaller and the glass is larger because of the technological advancements that have been made. When you have more light in your house, rooms are going to look larger, more open, and welcoming. That can help you decide what else needs to be done in your house and it can help you see to carry out those projects, too.
They Allow For More Safety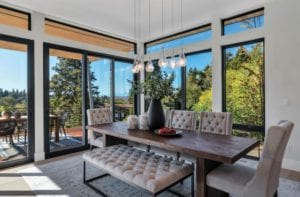 You want to address anything in your home that is a safety hazard before anything else. Older windows can't always function the way they should and that can be a safety issue. For example, if your windows are warped and won't open, that's a huge hazard. If something were to happen in your home and you needed an emergency exit and didn't have it, that's a safety issue. Also, older windows might open, but slam shut unexpectedly. That can be a hazard to any fingers that are in the way and it might even break the glass if it slams shut hard enough.
There are lots of reasons to get replacement windows in Laguna Niguel, CA for your home and if they are already on your list, you might want to place them high on the list, or even first on the list. The professionals at California Window & Solar are here to help you with the process from start to finish. We can give you a free consultation to go over any questions you have and make you feel comfortable with the project. You can then take as much time as you want making any decisions you need to make so you are confident about what you get before it is even installed. We can help you get the information you need along the way.