Are Replacement Windows A Good Thing?
Most homeowners don't pay very close attention to their windows over the years—until there's a problem with them. If your windows are acting up, you need to understand that replacement windows in Mission Viejo, CA are likely going to be a very good thing for your home. Not only are they going to take care of any issue you have noticed, but they will also provide you with a lot of benefits that you might not have even thought about. Here are some of the reasons why replacement windows are a good thing.
They Eliminate Heavy Drafts In Your Home
If you feel drafts in your home with the windows closed and the air and fans off, that's not a good sign that your home is sealed up tightly. Older windows could have gaps and air leaks or they could be warped, letting in plenty of air that way as well. When you get uncomfortable no matter how much your HVAC is running, new windows will take care of those issues. The new windows are going to be well insulated and sealed tightly to your home. You will no longer feel those drafts and pay the price of discomfort because of old windows.
They Eliminate Discomfort
There might be some parts of your house that are cold and some parts that are hot and you never feel comfortable in any of them. When you get new windows, they will even things out for you. They will eliminate the discomfort you feel in every part of your house because the temperature will always be what you set it at in every location. You are finally comfortable in your home, as you should be.
Your Energy Bills Are So Low!
Energy prices are on the rise, but that doesn't mean your energy bills should soar up and away faster than a speeding bullet. When you get replacement windows, you can count on the energy bills going nice and low and staying that way for the long haul. You don't have to worry about huge expenses every month, but instead can have nice, low bills that fit into your monthly budget with ease.
Aesthetics Are Back On Track
You might not have realized it, but it could have been your old windows dragging down the appearance of your house from outside. The curb appeal of a home is very important. It makes a first impression on visitors, your family, and even potential buyers in the future. When you replace the windows, you put a new, fresh look on the house and that will put your home's appearance back on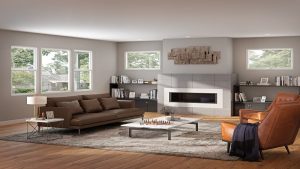 track. The windows will show from the interior of the home as well so you'll have things back on track in that area, too.
If you're considering replacement windows in Mission Viejo, CA, the benefits are huge and you can learn more about them with a free consultation with the professionals at California Window & Solar. We would love to come to your house and look around for details to start your project.