When the time comes to replacement windows in, Laguna Niguel, CA you may be asking what the distinction is between vinyl and fiberglass. Both types of windows have advantages, but there are some major differences to consider before making a choice.
Both vinyl and fiberglass are man-made materials. When you install vinyl or fiberglass windows, the material is formed into a frame that fits around the aperture. The glass is then installed in the frames in the same manner as actual wood, metal, or other traditional frame materials.
To completely grasp your options between fiberglass and vinyl windows, you must weigh both the good and the bad, just like you would with vinyl windows. Again, we'll begin with the positive.
Fiberglass windows are currently one of the top solutions on the market. They have numerous advantages that other materials simply cannot match.
Fiberglass is a versatile material formed of glass fibers and built of fiber-reinforced plastic. It is tough and stiff, with excellent corrosion resistance. It is widely used in the building industry, particularly for windows.
Vinyl is utilized as the window's outside "skin," and it is frequently enclosed by aluminum or wood. They are widely utilized on new homes, where they are frequently combined with low-cost construction materials such as plywood siding to produce a low-cost facade. However, vinyl windows can be put in older structures that already have more expensive double-hung or sliding antique glass windows. They can be painted to match the color of earlier window surrounds, effectively making them indistinguishable from non-vinyl windows.
What Is the Difference Between Vinyl and Fiberglass Windows?
Vinyl and fiberglass are popular replacement window materials, but there are considerable distinctions between the two.
Style. Vinyl window frames come in a variety of colors and styles, but fiberglass window frames can only be painted. They may be pre-painted or factory finished to match the color of your house's paint.
Materials. Vinyl replacement windows are constructed of plastic and wood fibers that are mixed in liquid form at the factory to create window casings. Glass is frequently added to an insulating compound containing wood fibers to create fiberglass window frames. This provides far better strength than vinyl but also adds weight.
Production. Vinyl is less expensive to manufacture than fiberglass. Fiberglass can also be formed into a variety of shapes and sizes, but almost all vinyl replacement windows are rectangular double-hung windows.
Exposure. Vinyl is great for replacement windows that have multiple large glass panes, such as bay and triangular windows. Fiberglass is more stable than vinyl and does not expand and contract as much when subjected to temperature fluctuations.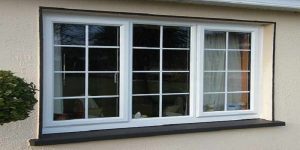 Efficiency. Vinyl replacement windows are more energy efficient than fiberglass replacement windows, therefore vinyl may be your best option if you reside in a colder region where heat loss is a major concern.
Warranty. Fiberglass materials often have longer warranty than vinyl materials, but the difference isn't as great as you may think. Most fiberglass window products carry a lifetime material guarantee, and some manufacturers provide a lifetime product warranty. Vinyl replacement windows are more likely to come with a product and workmanship warranty ranging from five to fifteen years.
Strength. Fiberglass window frames are more durable than vinyl frames. This means they're less likely to deform over time due to the weight of all that glass or break from being hit by something strong by accident.
You can't go wrong with either of these replacement windows. They are both long-lasting and of high quality. Simply choose the best replacement windows in, Laguna Niguel, CA that provides high-quality products and dependable services to work on your job. We're here to help you today!