When getting ready to have replacement windows installed in your home, it can be important to consider what the process will be like and how you can prepare for it either replacement or retrofit windows. That is not always straightforward. If you have never had replacement windows installed, you may not know what to expect or how to prepare. Here are some things that providers of replacement or retrofit windows want you to remember.
You need to remove anything fragile from the room in which the installation will take place. Many times, people think it is enough to remove things from the wall, but that is not the case. The installation creates a lot of vibrations, which can cause objects to move around. You do not want anything to fall and break, so be sure to consider that as you set up.
Window replacement companies also want you to remember to not leave the setting up until the morning of the installation. This is something very common that people do and it can delay the entire installation process. You do not want to have to do this when the installers have already arrived at your home.
You want to also leave a clear path to the window that will be replaced. You want to be sure the path is clear both on the outside and inside, since the installers need access to both. If you have furniture that can get in the way, remove it. If there are plants outside that can be a concern, be sure to trim these back to avoid delays.
Because the installers will be going in and out of your home, you want to also protect your floors so they do not get stained or otherwise damaged. Laying plastic sheeting down can protect carpets and wooden floors, ensuring the installers do not trek in mud and other debris.
Cover furniture before the installation begins. The installation will cause debris and dust to fall, and you do not want that to damage your furniture. Most of the time, laying sheets over the pieces in the room can protect the space from any damage.
Be sure to also remove pets and children from the area while the installation takes place. This can protect them and the installers. Placing them in another room for the length of the installation is enough.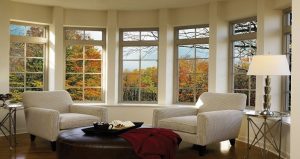 If you are not sure about how to prepare for a replacement window installation, you want to remember all of these things. By setting up before the installers get there and by ensuring that fragile items are out of the way, you can have the installation service done quickly. If you are ready to make arrangements for a window installation or if you want to be sure you can get the quality results you need, turn to a replacement or retrofit windows provider like us. We are here to help you get the exact kind of windows that you want for your home. Call us right now to learn more.