When you decide to get replacement windows in Laguna Niguel, CA, you are going to get more natural light into the home. Even if you get the same window style, they will let in more light because today, window frames are smaller, leaving more room for glass space. Technology has come a long ways and it even shows in the windows you get to replace the older products. While you might look forward to efficiency in your home, you can also look forward to the benefits that the natural light will bring to the space. Here are a few such benefits.
Health For Everyone
Natural sunlight can bring vitamin D in with it and while you don't want to be out in the sun for too long, soaking up that vitamin D in the home can feel good and give you an extra strain of health that you may not have had before. Your family needs every advantage it can get in the health arena and having extra Vitamin D can be just what you need.
Improved Sleep
When you have plenty of light coming through your home during the day, it can help you to set yourself up for sleep that night. Your body recognizes the daylight and the darkness and you can get into a better rhythm for your sleeping. You might sleep better at night when you have more light coming through during the day. Everyone could use more (and better!) sleep and it can make a big impact on your life as a whole.
Better Moods
Natural lighting has a way of making people feel better and you might notice that you and your other family members are in better moods. If you have kids that fight, you can still expect that to happen on occasion, but perhaps they will have a sunnier (so to speak) disposition, for the most part.
Higher Productivity
Since you feel better, are sleeping better, and are more healthy, you might feel that you have higher levels or productivity in your home as well. You are getting things done faster and easier and that can really help you to feel the benefits of the natural lighting and the sunlight that is coming in once the windows are replaced.
Energy Savings
You don't have to turn lights on during the day if you have plenty of natural light coming through the rooms in your house. That can help you to save energy on your bills. You can use the natural light instead of turning something on. The natural light is better for seeing anyway and you save money at the same time, which never hurts.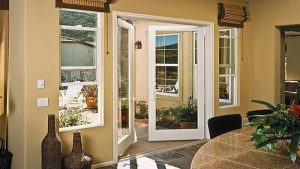 Larger, Open Rooms
You will notice that when you have more natural light coming into your home, the rooms are going to look larger and more open. You might feel like the spaces are more welcoming as well, all thanks to the natural light coming through the replacement windows in Laguna Niguel, CA. Contact California Window & Solar for a free consultation when you are ready to move ahead.