When you get replacement windows in Mission Viejo, CA, you are proud of the choices you made. It's important to get something that looks good with your home, but you might also want something that really stands out. How van you get colors that will highlight those windows? You have to make the right choices when the color choice up for grabs. While it's easy enough to go with whatever color you have now, it might not make the windows stand out as much as you'd like. Here are a few ideas to ensure that you get colors that highlight your windows.
Contrast The Home With White Or Black
If your home is a light color, you might consider black windows so you can contrast the home and make the windows stand out. On the other hand, if you have a darker home, having white windows will give you the same impact. That contrast allows you to highlight the windows against a home of another color.
Contrast With Lighter Or Darker Tones
If you don't want something like white or black (though those are classic colors that always look good and stay in style), you can get the same color tone you have on your home, like tan, in a lighter or darker color than the house so you can get a contrasting effect that will make your new windows stand out well. As long as you like the color of your house and you don't plan to change it, or if there are other colors you can paint the house that will go along with the window color you chose, it's still a safe way to go.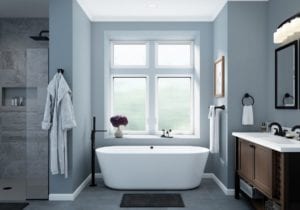 Go Bold, With Caution
Some homeowners aren't happy with neutral tones and they want to do something entirely different. They might have a white house, which they find boring, and they can spice it up with a really bold window color. While there are certainly options on the market, you want to be careful about getting something bold and really different as it might not stay in style. If it goes off trend, how will you feel about your home then? Would your home be harder to sell with that window color on it? The windows will definitely stand out and the house as a whole will stand out, but if the windows are too much, that might not have the impact you want either.
When you are working on getting replacement windows in Mission Viejo, CA, one of the many choices you will have to make is what color you want the windows to be. White and black are classic colors that are always going to look nice and are always going to be in style. But you can make other decisions for your home as well. The professionals at California Window & Solar are here to help you from start to finish. We can give you advice and recommendations on color and every other decision you have to make along the way.