Replacement Windows & Doors in Newport Beach, CA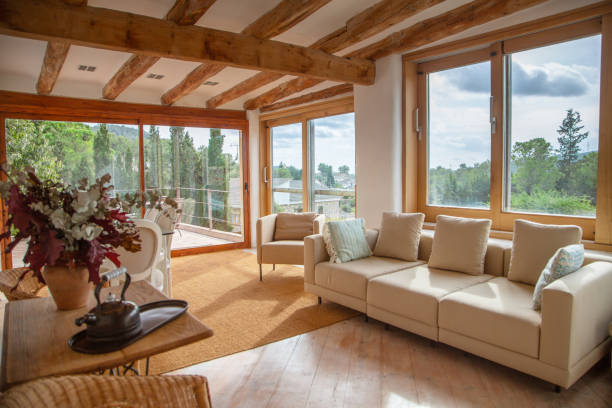 California Window & Solar is your one-stop replacement windows provider for Newport Beach, California. We provide all types of replacement windows for any type of home improvement project. Our products compliment your home features and greatly enhance its energy efficiency. California Window only provides the best replacement windows with state-of-the-art materials that are made from fiberglass, wood, and aluminum. We also offer brands from Milgard Windows, Pella Windows, Norman Shutters & Blinds, and ThermaTru Entry Doors, which are the best brands in the business when it comes to replacement windows and doors. Our name also stands for providing energy saving solar solution that is well-suited for the California climate.
Our highly-trained professional installers received their certifications from AAMA InstallationMasters™ Institute. That means we only send the best personnel to provide you the guaranteed professional service that is worth your money. California Window & Solar is also a proud recipient of BBB trustworthy A+ Rating and has continued to maintain this rating to satisfy more customers around Orange County and its neighboring cities. If you need new replacement windows, entry doors, and shutters or blinds for your home, give us a call today at 1-949-284-7483.
Client Reviews
No matter where you live, replacing old windows in any home can have a dramatic impact, not only on the quality of life that you experience in that home, but also on its value.
This could be important for those who may be looking to sell in the near future. Living in Newport Beach offers a wide range of inherent benefits, including that fact that you can be at the Pacific Ocean within a matter of minutes, or you could enjoy some of the peace and solitude that living inland may offer.
So how can replacement windows make a decided difference in your life at home in Newport Beach?
This question would likely have a host of answers for different people, depending on where you live, what you do, and what you enjoy. So let's take a look at some of the benefits and advantages that you can get by replacing the windows in your home with brand new, energy efficient windows.
First, it's a good idea to have a starting point with regard to replacement windows. For this discussion, let's assume that the windows in your home are at least twenty years old. The closer that you live to the ocean, the more corrosion your windows –and those all-important hardware pieces- are going to endure. When you have more corrosion, then minor components begin to fail quicker and that can lead to major problems.
Maybe your windows are pitted or stained and no matter what you do, you just can get them clean. This will happen when you have double or even triple glazed windows. The seals between the panes of glass will fail at some point and the vacuum (or gas, in the case of windows that rely on argon or krypton gas) seal fails.
This allows air and moisture to enter the window, between the panes of glass and that can lead to staining, pitting, or other issues and you won't be able to clean those issues up. This can be frustrating, especially when you notice that the sun is beating into your house, highlighting all of the flaws, dirt, or other issues on the glass.
Maybe those old windows have been painted too many times to even count anymore. It's common when you can't get them cleaned to throw another coat of white paint on the sills, frame, and molding around the windows. This can create a number of issues when it comes to functionality.
Have you ever struggled to open your windows because there was too much paint or corrosion on them? If so, then you know what this is like. You might just give up trying to open those windows, and then you're going to be missing out on some of the great ocean breezes that blow in during the afternoon hours.
Your current windows just might not fit your home or the interior design any longer. Through the years, depending on when your house was built, the interior tends to change far more often than more 'permanent' fixtures, like windows. You may have a modern look to your home now and the windows have a rustic, traditional appearance. If so, then it's time to think about replacing them to liven up the interior of your home.
So What Can Replacement Windows Offer?
The answer to this is simple, and a bit complex. The simple answer is 'just about anything that you want.'
You can open up your home with larger windows, such as bay or bow windows that look out over a garden out back, or the ocean down the street, or the rolling hills to the north or east.
You could enjoy more energy efficient windows in your home that will help you save a lot of money over time. While we certainly don't need to be overly concerned with heating our homes in Newport Beach during the winter, there are times when the temperature can dip quite low.
However, it's the summer that can really take a toll on our utility bills. When you're running the central air conditioning system around the clock just to keep a comfortable indoor atmosphere, it can cost a lost.
More than 40 percent of a home's heat or cool air (during the summer) will be lost through the windows and doors. The older your windows, the less insulation and protection they will offer. You could save hundreds and even thousands of dollars every year on your energy bills just by replacing your old windows with new, energy efficient ones.
You can also choose from what's called Low-E glazing. This is a film that is added to the windows that will block out a major portion of the sun's heat when it comes into your home. Just think about how many times you have closed the curtains or shutters over your windows during the height of a glorious summer day, just in the effort to keep your home from overheating. With Low-E windows, you won't have to worry about that anymore.
Most importantly, one of the major advantages that new, replacement windows offer Newport Beach residents is that your home will be more valuable when you choose the right windows.
How can you choose the right replacement windows that will bring you these benefits?
Shopping for replacement windows may be confusing at first. That's likely because you don't have a lot of experience purchasing new windows. After all, if you're lucky, you don't need to bother with this home improvement project more than once every fifteen or twenty years.
The best first step is to find a company that you can trust. They should have experience and a solid track record of helping their customers and putting their customers' needs first.
California Window & Solar has been serving residents throughout Orange County for decades and we have a BBB A+ rating, which highlights our commitment to excellence and exceptional customer service.
No matter where you are in your window shopping process, we can help. Call us today to learn more.
Windows & Doors FAQ's
What's the average cost to replace windows in a home?
Window replacement costs an average of $175 to $700 per window. Popular high-end window types will cost between $800 and $1,200. Installation costs can depend on a variety of factors. You'll probably have to repair a few windows in your home after years of home ownership.
What are the different types of doors?
Hinged doors.
Sliding doors.
Rotating doors.
High-speed door.
Automatic.
Others.
Panel doors.
Board batten doors.
What type of window is cheapest?
Popular designs and shapes make windows cheaper. Curves, hexagons, triangles, bays, and bows all those fascinating yet rare shapes will automatically push up the price of your windows. The cheapest window types happen to be double-hung, single-hung, sliding, fixed, and casement windows. Learn More.
Client Reviews
Contact California Window & Solar
---